How Churn SDK works
Add Churn SDK to your Mobile Application, send interaction events, subscriptions receipts and receive notifications when our platform predicts a cancellation based on user behavior.
Integration
Implement Churn SDK in your Mobile Application.
Track
Send events and subscriptions receipts from Google Play, App Store or Stripe.
Get Notified
We send you prediction alerts per user, just take action and win them back. Explore
Just connect your Mobile Application and Churn SDK will detect and visualize your subscribers before cancel.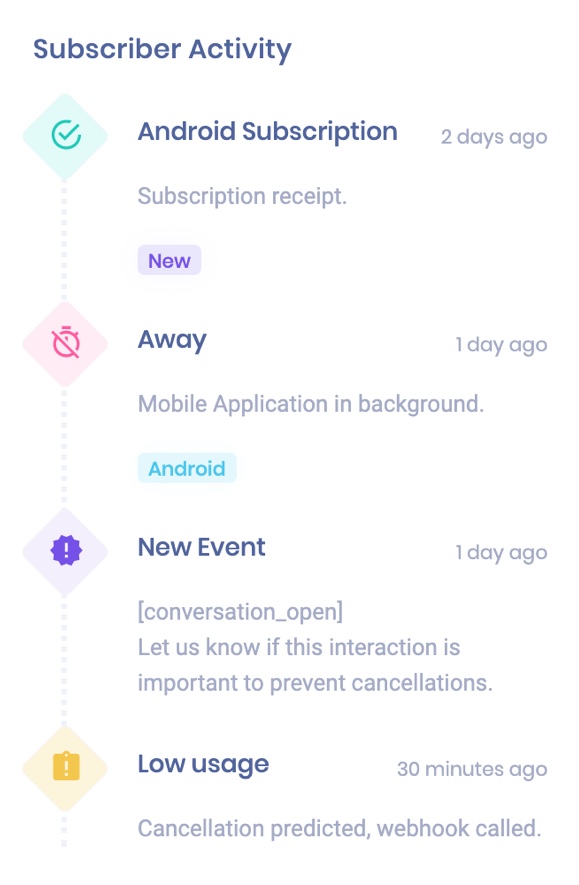 Pricing
70% of companies say it's cheaper to retain a subscriber than adquire one.
Limited to 100 subscribers
Track events
Churn prediction
Real time alerts
Scale
$100 Billed Monthly
Everything from Free plus:
Limited to 1000 subscribers
App Store / Google Play integration
Stripe integration
Email Support
Meant for high-volume businesses with complex requirements. Try Churn SDK
Increase your revenue, adjust your pricing or send offers per user, take care of your subscribers.